Category —
Miscellaneous
While brands are beginning to reach out to consumers in social media in significant ways, the question remains on whether or not consumers will be receptive to their outreach.
According to a study entitled "The Impact of Social Media on Purchasing Behavior" done by OTX Research on behalf  DEI Worldwide, the answer is yes.
The study confirms that consumers currently use social media as a top resource for information on brands, companies, or products:
What it also concludes is that social media outreach by brands and companies, especially if this outreach is done by a personal online representative, can be much more influential on consumer behavior than ads or other promotional devices.
In fact, 2/3rds of consumers are likely to pass the information they receive from these representatives on to others and over half are likely to take action on this information.
Attitudes towards information they receive from online brand representatives
Likely to pass this information on to others – 67%
Likely to share their opinions – 63%
Value information more than ads – 62%
Likely to take action – 57%
Currently, most companies are viewing social media as something to manage or handle damage control, like many of the top brands involved with Twitter.
However, by using social media as a proactive outreach to share valued information, the impact of social media on consumer behavior can be significantly stronger.
Only a small fraction of the tens of thousands of videos uploaded to YouTube daily will reach 100,000 plus viewers, which is one of the benchmarks used for a video to be considered "viral" on YouTube.
The elements of a viral video that allows it to reach that level fall into two buckets: above board best practices and below board ways to game the system.
The above board elements of a viral video include:
Can Answer A Simple Question: "Why would someone want to share this video with others?" – whether it's funny, controversial, racy, unique, or just plain strange, all viral videos must be "share worthy".  There is a certain element of "badge value" that comes from sharing something with your friends that you know that they would enjoy, especially if you are the first.  A video then becomes a form of social currency, to hopefully be exchanged exponentially.
Video Is Well "Branded" – the title and the thumbnail video image need to jump past the other video competition.  By understanding thumbnail optimization and how to write an engaging title, you can set up a video for success.  Like any other form of advertising, the title and the thumbnail have only a couple seconds to register someone's interest before they move on to something else.
Social Media Outreach – a video has about 48 hours to profit from being on the "Most Watched" video page, so thinking ahead on ways to share it through outlets like Facebook, MySpace, Stumbleupon, and Digg can definitely provide a kick start.  However, the line between sharing a video with those who may be interested and outright spamming can be very thin indeed.
Which brings me to the below board elements of a viral video.  In his post on TechCrunch, Dan Ackerman Greenberg covers some of the points above, but also goes into ways how his firm artificially pumped up viewership through usage of multiple accounts and comment manipulation.  What is also interesting was his mea culpa follow up post after the blizzard of negative comments he received.
For a deeper understanding of YouTube and the sociology behind it, this video done by Dr. Michael Wesch of Kansas State University is both a fascinating story, as well as a great source of insights into YouTube itself: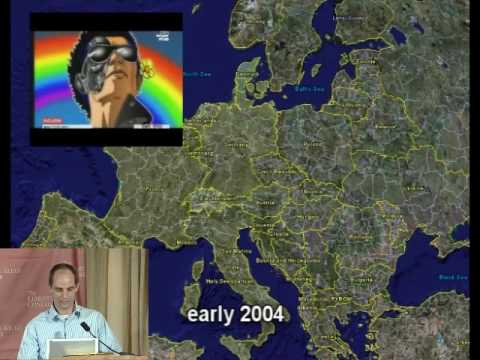 Last week marked one year of posting at Insight Buzz. So after spending a couple minutes in Google Analytics looking over the 92 posts that made up this past year's worth of writing, I've pulled together a list of the top couple of articles that had the most readership traffic in the past year.
1.)  10 Steps To Mastering Google Reader
10 steps to turning the torrents of blog feeds and news posts out there into a manageable flow of insights.  This is a topic I plan on coming back to again over the next several weeks.
2.) 4 Principles Of Persuasive Social Media Marketing
A study of the organizational influence work of psychologist Dr. Robert Cialdini in order to find corollaries in social media that lead to four principles for marketers looking for better success in social media marketing.
A look into the 6% of the online population that makes up 50% of all display ad clicks.  And they're probably not who you think they are.
In addition to the top posts, I'm also including a link to my first official post, on the potential behind search data as a source for consumer insights (numerically it is actually second, since my first post was the digital equivalent of someone tapping a microphone and asking "Is this on?").
Consumer Insights And The Potential Of Search
How the study of search behavior from a cultural anthropologist's standpoint will lead to even richer consumer insights for market researchers.
If you put any well known brand name of a consumer good into a free keyword tool such as WordTracker, you'll generally find the word "coupon" among the top keyword search terms associated with that brand.
Especially during times of recessions, downturns, and economic stagnation, consumers tend to look for good value and deals. What's different about this latest downturn in the economy, is that many are turning online to find them.
This behavior is leading to growth in online printable coupon sites such as RetailMeNot or Coupons.com. Viewed as a group, you can see the recent share growth in these type of sites in this graph from Heather Dougherty at Hitwise Intelligence:
During recessions, making sure that brands are providing a good value at shelf has always been a critical task for marketers when consumers are watching their dollars and cents.
What is new is that consumers are increasingly looking online as they look for good values in the brands they buy when budgets are tight.
Found this neat interactive visualization from Wired Magazine of what happens to a blog post after you hit Publish.
Just click and see where it takes you. Just be careful of the text scrapers!
When you boil it down to its essence, consumer behavior is dictated by needs and wants. Consumers very rarely buy something solely because of their demographics.
In other words, demographics help us form a picture of who a consumer is who buys a product, but almost never do they tell us why.
This post by Jolina at the Online Marketing Blog talks about moving from targeting Demographics to something called "Momentgraphics" in digital marketing. She also provides a good example of what this means:
"Momentgraphics focuses on the periods of time in which we need to target prospects. For example, someone searching for the phrase 'cold medicine that works in less time' is the prime target for a company producing cold medicine. The demographics of that person are irrelevant because we know they are in a 'target moment' making them the target market. "
While I think "momentgraphics" seems kind of kludgy as a term, the idea behind it is sound, since it brings traditional needs based consumer insights to the digital immediacy of search engine marketing.
It's not often that Apple is seen taking a stumble, which is why the recent brushfire over the iPhone price drop was quite unique. Steve Jobs belated gesture of $100 back to earlier iPhone adopters quieted things down a bit until the whole 1.1.1 update "iBrick" thing set things off again. At the same time last summer, Jobs was in a tiff with NBC over iTunes pricing of their TV shows, which led to the dropping of NBC new shows from the service.
From his article last month in the New York Times, David Carr compares these two events, and puts a sharp point on inconsistencies how Apple prices and consequently places value on the products and services it markets. The point that both a song by Kanye West and a Barry Manilow/Lily Tomlin duet can't be worth the same 99 cents is apt. The recent price drop for DRM free recordings is a move in the right direction, since DRM provides no value to consumers.
Dynamic pricing is something that Web 2.0 should be bringing to consumers. What is strange is that one of the most dynamic technology innovators of this latest tech boom is still clinging to a Web 1.0 pricing model.
A new blog focused on consumer insights, marketing research, and the digital media landscape.